Site Info



Awana Pages







CCC Summit Bible Quiz Page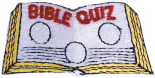 Bible Quiz objectives from Summit:
To encourage clubbers in Bible memorization, review books.
Provide competition for clubbers to show Bible knowledge.
Give clubbers a greater love, working Bible knowledge.

Everyone learns about salvation, so they can accept Christ.
Handbook sections covered (updated 1/2015 for LA area):
Red Book = Start Zone. Discoveries 1-4, Silver Disc 1-4
Blue Book = Dicoveries 1-4, Silver Disc 1-4
Green Book= Challenges 1-4, Silver Chal 1-4
Yellow Book= Challenges 1-4, Silver Chal 1-4

The Bible Quiz format consists of two main types of questions:
Multiple Choice Quiz - 8 Questions are asked with 3 possible answers given, kids pick their answers, then put up the appropriate letter A, B, or C paddle. Each answer is worth 10 points.

Speed Quiz - 8 questions are asked of 1 team member per book. When the question is asked the clubber may answer before the Quiz Master finishes the question as long as the child finishes the intent of the question after answering. The clubber has 20 seconds to start their answer and 40 seconds to complete it. Correct answer for first person buzzing in is 20 points, second is 10 points. Second buzz child nswers if first was wrong, but only gets 10 points if correct. And if the child answers 3 questions correct and answered all the Multiple Choice questions correctly they get extra bonus points and a speical ribbon as an "Honor Quizzer". 3 correct answers child sits down - this is called "Quizing Out". If the child answers 2 wrong answers, they are not allowed to answer any other questions and asked to sit out. Electronic hand switches are used to tell who "buzzed in" first.


Study Guides, Questions, Review Sheets
Study guide design by www.commanderbill.net
Multiple Choice questions design www.2timothy215.net
each Discovery/Challenge has individual pages


Click to Download Acrobat Reader

Please Sign my Guestbook